A Beginning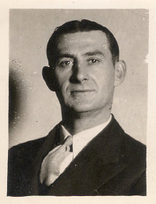 Grandpa was my caregiver until I was old enough for school. We had our morning coffee together. He read the sports; I read the comics. He taught me some German, the best time to get cookies so Grandma wouldn't know, and how to roll his cigarettes.

He was so proud of me to have them all lined up for him after lunch. Through him, I learned many valuable lessons. I learned cigarettes were bad. I learned what cancer was, what tube feedings were, and the very scary word 'metastasize'. Finally, he taught me how to deal with loss. I was 9 years old.

Decades later, I was a cancer nurse, a patient advocate, and educator. As a cancer nurse, it was my duty to fight with you...to fight with dignity to heal or to fight with dignity to leave. For years, I helped my patients get ready to leave the hospital by applying makeup. I would later learn I was exposing them to immunity, estrogen, and endocrine disruptors.

I was angry...Scorpio angry. Again, I was the little boy who made cigarettes for his Grandpa without understanding the implications.

This time though, I had the skills to make a difference. Since I have also been involved in pharmaceutical research for nearly 20 years, I brought my nursing skills and research skills together to combat the industry that throws toxic chemicals into a product, slaps a pink ribbon on the box and betrays the very consumer who thinks they're buying a product with a conscience. I had to restore balance to that personal equation. So, my first product would be called 'Restoration'.

Essentially, I want all my products to be the most effective, healthy, and organic skin cosmetic it can be. I want it to be something you can feel good about using, look good from using, and can feel safe sharing with others.
---
The Laboratory
My products are formulated with safety in mind - first and foremost. I'm a nurse for god's sake.

​Unlike other companies, I will not hide chemicals under the guise of 'fragrance'. I also will not fail to reveal all ingredients - another industry dirty secret. I want to be part of the solution - not the problem.

​
My intentions for this nourishing and healthful skin cream are:
to create a superior saturation profile by using carrier oils of different densities
to select ingredients that are organic or wild-crafted whenever possible
to REFUSE to use ingredients that are suspected to cause cancer or any other genetic mutation
As a result of this mindfulness, all products will be 70% organic at minimum. This allows me to say 'organic' on my advertising and mean it. Also, it gives me peace of mind.


Specifics
The Environmental Working Group rates my cream a "1". Water rates a "0".
It's an organic cream with hand made tinctures of Immortelle, Calendula, and Prunella.
It's infused with Reiki, positive intention, prayer or whatever noun suits your mojo.
The formulary is supported by research published on reputable sites (e.g. National Institute of Health).
Nearly all my 1,500 beta testers say it's a keeper; 7 people complained about the color.
Tidbits
~ The FDA does not regulate the cosmetic industry; the industry regulates themselves.
~ Following the recommendations from the cosmetic industry regulatory committee is optional.
~ There are approximately 12,000 chemical in use in the cosmetic industry with hundreds being added annually. The number of chemicals that have been tested and proven as safe in humans varies between 4 and 12%.
~ Cosmetic companies are allowed to have partial listings of cosmetic ingredients. What you get is not always what you see.

~ Babies are born with as many as 232 of these chemicals in their body; the tests are designed to look for 232.

​~ Click here for more information on my skin cream website.